The album pages designer
Quickly create attractive pages
Easy operation, fast results
Create your album pages, exhibition pages or your own form sheets with just a few mouse clicks.

Save your form sheets as a reusable template!
Immediate scanning of images (optionally with automatic framing)
Direct reading from the digital camera
"Drag and Drop" support (simply drag and drop saved images into the document)
Supports the Windows internal clipboard (Copy and Paste)
Works like a full-fledged word processor
Simple insertion of decorative elements
Creating and inserting QR codes (since version 1.0.0.27) 
Loading existing album pages with a mouse click
The current page can not be deleted by mistake
Program alerts you to page or album changes if the modified page has not been saved
Create placeholders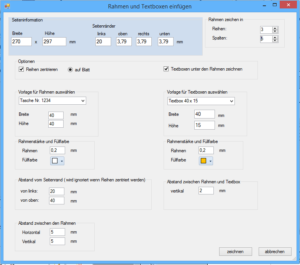 The placeholder and textbox generator.
Simply enter the desired values and click on "OK".
The elements are automatically placed on the page.
On request even exactly centered!
Automatic insertion of placeholders for adhesive bags
Automatic insertion of text boxes to describe the contents
Calculation of the required and examination of the available space
Automatic centering of placeholders and text boxes
optional grouping of frames for easier replacing on the page
Freely definable frame border width, freely definable background color
Freely scalable shapes

Choose the creative elements from more than 160 freely scalable shapes with just one mouse click
The integrated frame preview is a unique feature of the Phila Butler.
This gives you the opportunity to pre-test the visual impact of your frame.
You do not exhibit?
No problem! Then we just call this function "Album Preview" or "Collection Preview". For example, if your album is consists of 20 individual pages, then please select the option "5×4" for the preview.
Even larger formats possible
Since version 1.0.0.27
Even DIN A3 pages in landscape format are considered in the frame preview and displayed correctly!
Analogous to the information of the BdPh for online exhibits (look there under the menu item "Mitmachen" ) is skipped when using A3 landscape formats the next sheet number, as shown in the diagram on the left.
Please take this into account when assigning page names when saving an A3 landscape page in an album.
On the help pages you will find more about frame preview.
Integrated preview of your exhibition frame
Any number of your own templates possible
Automatic calculation of the required space
Freely definable distances of placeholders and text boxes
Textboxes can be grouped when creating to make it easier to move on the page

The designer can process all common page formats.

Documents in the sizes DIN A4, DIN A4 + or their own formats, as well as the popular formats of the known manufacturers pose no problem.
Please note that your printer can accommodate the formats. For special formats (for example, 270 x 297 mm) is already a
DIN A3 compatible printer required